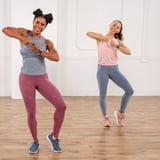 Ready for a new workout? Good news: we have four of them coming your way this week as we keep our Instagram Live workouts on @popsugarfitness going. Tune in for no-equipment cardio and low-impact strength sessions, plus a donation-based boxing workout led by Deja Riley to benefit the American Civil Liberties Union. And if you still want to sweat on the off days, check out our previous Instagram Live workouts! They're all available on the free Active by POPSUGAR app.
30-Minute Full-Body Slay Workout With Louise Hazel: Monday, June 29, at 9 a.m. PT/12 p.m. ET
30-Minute Boxing and Full-Body Toning Workout With Deja Riley to Benefit the ACLU: Tuesday, June 30, at 9 a.m. PT/12 p.m. ET
35-Minute No-Equipment Barry's Workout With Dilan Gomih: Wednesday, July 1, at 10 a.m. PT/1 p.m. ET
45-Minute Low-Impact, High-Intensity Strength Workout With LIT Method: Thursday, July 2, at 9 a.m. PT/12 p.m. ET
Click here to add the full workout schedule to your Google Calendar.